Our Experience with Coco and her Puppies
2021

Lesley and Chris (Janets Sister and Brother in-law)
AGAIN wanted to add a spare (as in heir and spare) to the family,
as they love oldest Spaniel, Happy Dog, SO much
and would hate to be without constant Springer love.
At Greenlow House the family and especialy Janet also wanted a 'Coco' puppy as Max their Rosie Puppy was now 13yrs old
Coco is a fine chocolate Cocker of no pedigree but healthy and good natured and has been with Chris and Lesley keeping Happy Dog active since she was 8 weeks old.

In Nov 2020 we introduced Coco to Jazz a small healthy Cocker male belonging to a local friend
Jazz was well known to us and known to have the sweetest nature (and an outstanding tail) .


Jazz and Coco knew exactly what to do... Good boy 'Jazz'
Coco was definatly pregnent
Preperations were made to welcome puppies
On 16-2-21 Coco gave birth to first one and then six puppies. Janet rushed over to help and between Chris Janet and Lesley AND COCO six puppies were born.
Two were chocolate brown just like mum.
Four were liver and white just like dad.
Just one liver and white was a boy.

BUT It was soon evident that the second chocolate girl "Maisy" was fading and we did all we could to get her to breath and take milk. Lesley revived her momentarily by breathing into her mouth .... but we lost her ...
In the morning we went to the vet came to check everyone and were advised that Coco and pups were all VERY well.

Further investigation found that Maisy had a cleft lip and could not latch on to her mums nipples indeed she may have had other internal complications...
Little Maisy was cremated and will never be forgotten...

All the others thrived ... The little boy soon became a big boy putting on weight much faster than his sisters. All became excelent at leaving their warm snuggly whelping box to wee and feed in their run and as they became bigger the run was given access to the yard.. Mama Coco slept with Lesley on the day bed for relief from the puppies but soon hopped back in to solve any issues of cuddle and nuzzle and feed the pups ... licking them clean all the time ..... Coco was just the best mum and bonded to HER mum Lesley who was always close at hand with the best foody treats... liver cooked in butter at 3:30 in the morning being her favourite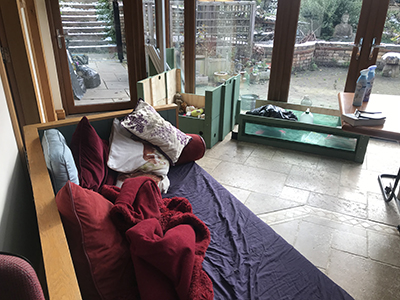 Don't worry Lelly Mama Coco will lick them clean
Lesley's mum Gwen on "quality control"
This is "Luna" who stayed with Lesley's sister Amanda and her family including Star a black Labradour
Luna soon developed the tri-color markings which makes her a VERY special girl
This was Coco's favourite position to feed the pups
Though sometimes late in the middle of the night Mama Coco could hardly keep awake never mind "sit up"

Cookie is Chris and Lesley's 5th Spaniel
Peggy, Rosie, Happy, Coco and now Cookie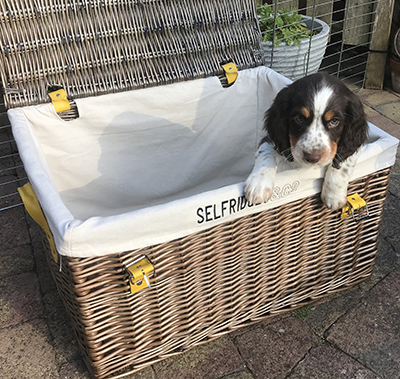 'Luna' lives with 'Star' the labradour Lesley's sister Amanda and her family Gary, Eden and Kasper
'Chunky' lives with 'Max' the sprocker (Happy Dog's brother) as well as Koni, Milo and Ozzy.
They all live next door to Coco and Cookie at the kennels with Lesley's sister Janet, John and mum Gwen
Becky and John take them for great walks and Matt brings Pug baby 'Neo' to visit
YES ITS A HOUSEHOLD WHEN WE ALL GET TOGETHER
'Dotty' lives very close to dad Jazz in the same village as all the other pups with a family chosen by puppy dad Jazz's family. Dotty has two young boys to entertain and help to grow up and hopes to be a therapy dog and to help her teacher "mum & dad" at school
'Rosie' lives with Lauren and Mikey and visits often as they are close friends of Lesley's sister Janet...
Fur baby Rosie we think inspired Lauren and Mikey with the confidence to be parents to a human baby ...
So Rosie will be helping a child grow into a wonderful person as all dogs do.
Cookie is Chris and Lesly's perfect "spare" and at only 3 years younger than her mum Coco they should keep each other happy and healthy
Chris says "Cookie should see me reach 80 - That'll Do"
Cookie became best friend to old Happy Dog.
Happy Dog developed a tumour and was deaf and was suffering dementia ....
Cookie washed her eyes, gently played with her, sensed when she wanted to go out for a wee or poo
and went with her to remind her what to do and bring her back in doors as Happy was SO suffering from dementia
Happy Dog left us in April 2022 she was 14yrs old... She enjoyed Cookie Dog's kindness for almost a year