PLEASE TAKE THE CLIMATE CRISIS SERIOUSLY

Greenlow Bungalow Diary of a dream
This Diary updated last 27-11-07


Scroll down and see the story unfold.
------------------------------------------------------------------------------------------------------
From the very beginning...
It all started on a holiday in the autumn of 2001 when a whole lot of things came together
We realised that IF we were able to buy the land and derelict cottage next to our families
Greenlow House and Kennels, we MIGHT be able to build a house to fulfill many of our desires.
We wanted to have more space, in a rural spot, to both work from home and spend more time
together traveling into London a few times a week and on Saturday nights instead of living in
London and visiting family out in rural Melbourn as often as possible.

We wanted to spend more time with Jamie, Matt and Becky and to help inspire them to reach
for thier dreams
We wanted to create a TOTALY wheelchair friendly landscape and house to provide space
and respite to Jamie and the family
We wanted to create a calm space for Nana and Grandad to escape from the kids.
We more than anything - wanted to motivate and inspire Jamie through the design of the house ...
This house we envisaged could enable him to potentaly live with a partner and his own children
and a personal assistant, work from home by computer - we hope we can afford to leave it to him
if he wants to live in the same area when we are gone.
Ariel view Google Earth SG86DG - View from family house - the rainbow appears to land right on our dream spot

It took three years to agree the sale terms and price to buy the land then it took a further year to complete the legal
arrangements. At last in November 2005 the land is ours - Our.... VERY overgrown land


the family welcomes us from signing contracts with a champage reception on "our own" land
Maddly we thought we could clear this wildly overgrown plot on our own
Now how does this thing work ................................................. watch out i'm in here somewhere

It soon became obvious that we needed some serious help - Enter local farmer, landscaper, builder ...
Warren Scott and his magnicent team from Scott & Scott The work begins to flow with land clearing and the
beginings of a road into the site was laid
Suprise 1 - The first of a number of major suprises (despite much research prior to our purchase) ...
We knew the land was not flat but with all the overgrowth removed we could now see that the land rises some
3 metres over the 54 metres from front to back.
Planners force us to move the house back from the front hedge and keep the height very low
so we cut into the land to create a 200sq mtr flat area for the house and courtyard and a seperate 25sq mtr garage
The good news is that under all that growth we found we have a beautiful spreading chesnut tree.
More pictures coming to show you how it changes through the seasons
Feeling SO guilty for removing so much growth
(though mostly diseased trees of little merit - strangled with weeds and ivy)
Lelly plants 500 native hedging trees (protected by plastic bottles donated by friends)
Suprise 2 - Cutting over 1.5mtrs into the ground requires a serious retaining wall
to stop the top field sliding down onto the new house. (fairly unlikely in steady chalk but not worth the risk)
Suprise 3 - We had a bore hole water well that we expected to use for our water.
(There is no mains water in the area) however new regulations force us to bore a new hole that has to be 50mtrs
from our waste water system (you got it no mains sewerage either).
Luckily with 54mtrs front to back we just managed to comply. An unexpected £3000 extra
Suprise 4 - We had a power supply but again because of new regulations and a condition of the sale
we had to get a new supply from the telegraph pole that luckily we have in our south east corner. A £2000 extra
(getting this work done was a comical farce that we will document seperatly)
Suprise 5 - We planned to soak away the rainwater from roof and courtyard - after passing through the chalk
this water will join the water in the artesian well beneath us. We though a simple hole filled with bricks would
do the job ... but after consulting building regs inspectors, doing porosity tests and doing the calculations
our best plan was a pair of soakaway tanks each with a capacity of 3 cubic mtrs. A £1500 extra
Suprise 6 - Despite much research and discussion with South Cambs Planning department
our planning permission was recomended for refusal. We had permission for a building but not what we wanted
to build with the access features and wheelchair turning space we are aiming for.
PANIC we engage a specialist profesional to help us put over our case. A £4000 extra
With great thanks to Fiona at Strutt & Parker and the support of Melbourn parish councilors we lobbied
and swayed the planning commitee.

On April 5th 2006 with a 13 to 5 vote in our favour we recieved our planning permission.
(we will write this horror story up seperatly). Meanwhile click here to see what we showed the councilors
SO at last the old house can come down
Good progress during a very hot July - Dan adds to the retaining wall around the courtyard the foundation for
the hot tub / jacuzzi base, fish pond, planter and fire pit ring built and the garage erected.
(All to be later clad with reclaimed bricks)
At last we have secure storage (and somewhere to shelter) our shed is custom made and erected by
Rob and Burt from local company Melbourne Garden Buildings. I have lined it with insulation panels and OSB
plywood and have fitted electrics to run the water well and power tools. The shed is big and still leaves room
for a car in the middle despite the fact that I have installed industrial racking down both sides to give lots of
storage and a terrific strong work bench.


Bob and Dan put in the rainwater collection tanks and the septic tank into the ground
Suprise 8 - The Titan tank does not have a third party certificate so NHBC control stop us installing it ...
untill finaly (two weeks later) they are happy that it is suitable.
Suprise 9 - The amount of chalk we have dug out of the site has become a mountain and we cant move so
it has to be removed from site - Finaly over 20 x 20ton lorry loads.
Suprise 10- After landscaping the top part of our land we experience the biggest storm in our area since
records began 3inches in one hour. This seriously tested our french drains and water run off which failed
washing a foot of mud down around the newly built garage flooding it. This was agravated by the water well
head filling up and flooding down the 4inch duct pipe that bringss the 2inch pipe from the well to the garage.
Back to the drawing board


We add extra steel and railway sleeper retaining walls and extra french drains (and seal the duct from the well)
Next storm we will be ready.
Back to the build there is so much now in the ground that you cant see.
Septic Tank, Well, Pipes for waste, gas, telehone, septic outflow, rain water management.
The hardest to set up was the septic outflow 65 metres of perforated pipe in shingle wrapped in geo textile.
but its all now in and Dan has made good all the access points
But STILL no sniff of a house. UNTILL NOW
With Pauls Whitton's help we mark out the trench foundation and Bob digs the trench
after passing our NHBC/Building regs inspection we put down layers of crushed concrete, MOT type 1 scalpings

Damp Proof Membrane, steel reinforcing and then (again after NHBC inspection) pour the concrete and
voila we are ready for the frame to be screwed onto it.
Our courtyard is extra complicated as we want to achieve a flat wheelchair access through EVERY door
so there are lots of drainage systems to ensure the house does not flood in a storm.
The feature of the courtyard is the walled garden and that is nearly finished and looking great thanks to
bricklayer's Gary and Ed.
At the end of October we have electricity, water, rain storage system, septic waste system, fences, a
landscaped site (even the fish pond), foundation and we have the frame and steelwork scheduled for
November 1st with the roof 10 days behind and windows 3 weeks more.
We are 2 months behind schedule Lesley is taking two weeks holiday to join me in "The Shed"
(I have been living here Monday to Friday now for weeks) during which she is planting up the top garden and
the shed / garage has a fridge and a kettle and a bed, telly but no internet connection.
Our dogs Peggy Lee and Rosie Lee love it on our site and run around like maniacs. Peggy paints herself with
chalk and finds cool shady spots. Rosie climbs trees after birds and has learnt to honk the horn in my van.
I am blessed to be able to share the rich Greenlow life. We rescue injured birds. We cry tears of sadness as we
bury Matt & Becky's little cat Garfield and more recently our own Bernie Cat. Rascal cat dissapears for two weeks
returning after all hope is lost with broken hip and a front leg that had to be amputated.
But we cry tears of joy as Lesley's sister Amanda has just had a new baby - Kasper here he is with his "big" sister Eden.
With thanks to Ian we tour our estate on a Quad Bike which now has a trailer to move stuff around the "Ranch".
We struggle without water for 4 days (when the main house well, caves in).
Then we supply the house for two weeks from our new well and 100mtrs of pipe (until a new well is drilled and pump installed).
The summer has been a real Swallows and Amozan's treat.
I will never turn Becky and Matt into builders but they are watching from the wings at the performance of my life
and a story unfolding that none of us will ever forget.
The frame design is our own.
We have built a number of models and many design drawings for planning application and
communication to create manufacturing drawings ready to prepare the frame for delivery and erection.



Our frame design turned into reality by local team ER&R.H
Ted Halford (Structural engineer) and son Robin (Architect) using 3D CAD have calculated the structural integrity,
engineering a steel frame and panelising a SIPs panel construction. They arranged for panels from SBS andmanufacture
of the kit in Scotland by SIPit and they are arranging erection by a local company A1M with experience of steel and SIPS
construction Thanks Jim, Pete, Paul, Alex, Danny and very especially Rob (The unstoppable force)
The 1st of November is the big day
We are woken (in our shed) by a crane lorry that lands on site like something from "Thunderbirds"
then a lorry arrived from SIPit in Scotland (after a breakdown on the way - of course) and Jim and his lads
arrive from Essex.
After scratching thier heads and looking at the picture on the front of the box they set into rapidly putting up
the jigsaw of numbered panels gluing and screwing as they go. A few of the sole plates need modification
and of course there are two of the same piece and two pieces missing but still by the end of the next day a
large proportion of the panels are up.
the first of two deliverys arrives from SIPit in Scotland and we get to see the assembly instructions
The Steel goes in to support the roof at the centre of the buildings with just a small hic-up that is quickly
put right by the very friendly local (metal man) Jeremy Brew assisted by yours truly (the scarecrow)
The assembly of the frame took 16 days during which there was a short delay where work stopped waiting for
the second delivery from Scotland. All in all the whole process went smoothly bearing in mind that this was
Teds first full project for a third party and only the third SIPs build by Jim and the "first ever" for the main team
working on the erection Danny, Paul and (the driver) Rob.
During the two day delay Lesley and I built two boxes for growing vegetables without having to bend down and
so our Jamie will be able to go up to the back garden and pick veg from his wheelchair
The window installer John Ellis has visited to confirm details and get final measurements I am thrilled with the way
that John has engaged with the project and taken such care - He has made a full scale wooden template to measure
to make sure he gets the awkward angles measured correctly.
Our Dryliner / Plasterer Jamie Bunton stopped by to check progress (on his horse Worzel) - He lives just next
door at Greenlow Cottage completing our Greenlow family. (House, Kennals, Cottage and Bungalow)


The roof tiles battens and velux windows arrived during frame build. Somehow the Velux sizes that I wanted
over the conservatory were not translated to the manufacturing drawing so we accepted the earlier (smaller)
sizes but this meant that the Velux windows had to be "restocked" at a cost of £250 that is 20% of thier value.
Luckily the smaller windows are cheaper so all in all the roofing company owe us money. At 2hrs per day the
VERY SLOW tiling means we are not watertight for Xmas. However it was obvious that the windows (which
are being made to measure) would not be in before Xmas either. But what is Xmas on a building site - just
another day followed by a two week shut down in the building trade!!
SO I am looking forward to Mid Jan when the roof is finished scaffolding can come down and we can clad the
outside with featherboarding and get the windows in.


After a short break in January (too much Christmas pudding), a good deal of rummaging around the sales to buy tiles
(Tops Tiles), flooring (Floors to Go) and bathroom fittings (Bathstore.com) all at knock down prices, and after a little
snow - the glazing is delivered and John Ellis and Liam start fitting the windows.
.
With help from VERY mild weather and local lads (and lasses) including the very capable Charlie who helped prepare
and install the external cladding and also In February, Warrens lads were back to tidy up the landscaping all around
the house. They have top soiled the front garden, shingled all around the back of the house (we have a very large back
passage according to sister Janet - that last sentance made her sound like a rude nun - when she is actually a rude
mother superior)) AND they have tidied up the road so that we can get in and out of the site without getting covered in mud.
Tidied-up entrance using recycled road scalpings and the paddock field waiting to be tidied and re-seeded
Up the drive to parking space and front garden to arrive at barn like monolith
Front parking and front garden and behind the house the "ginormous" back passage
arriving at the entrance to reveal the courtyard and all the south facing windows

Looking down on the house from the top of the paddock field and from the top field beside the chestnut tree
Next stage interior first fit : underfloor central heating,
electrics and plumbing, before plaster boarding and floor screeding.
Lelly cleans the concrete floor -tapes a DPM to the under concrete DPM - and lays 60mm insulation on floor
The NU-Heat underfloor heating system arrives - here, on our home made trailer, is the unvented tank
(with solar heating coil)
All floors insulated and we have lined the stud wall with 11mm OSB and now we are going to
start drylining and plastering in the utility room - so that the services can be mounted on the
finished plastered rear wall. We are using two layers of 12.5mm plasterboard in the utility room
to ensure a good fireproofing to this room which will house the gas boiler
Told you so ...... (behind it is the electricity supply - joined soon by a gas we hope).
This is the manifold to control the UFCH underfloor central heating. and this is what it is connected to ....
Jury is out on whether this lot is leak free and ready to operate - but needs must and now it is buried under
20 tons of sharp sand and cement - that was 150 barrows of cement mixed and delivered by
Jamie to be smoothed to perfection by brother Danny.
Outside Paul has laid the paths under the "cloisters" - now Lelly is deciding on internal flooring
and it is likely to be travertine and engineered oak
Thanks to the genius of Lelly and Lyn assisted by Rosie Lee the garden is blossoming
Well its nearly December 2007 and with 6 puppies born 21st October and hundreds of visitors
we are virtually finished. Lelly has moved in, all the services are in and working ... SO HERE IT IS
Arriving at our entrance next to the family kennels - we need a big sign as you cant see a building


Into the drive past the paddock field and into the car park


Looking back on the paddock field, (can't wait for the spring)


All the landscaping, road gates and fencing are complete and the paddock field is seeded.
From the north side it looks like an agricultural barn - not a home which is exactly what the local
planning officer wanted. But look around the gate and what a difference ...
Come on into the south side ... and up into the garden ...


The shed "how did I live in there for six months?" ...


Have a look inside the building ... from the courtyard, this is the first guest room and my office
which shares ...


a bathroom - with the second guest room which is also Lelly's work room.


This room leads into the main room which is usually entered from the courtyard...


The central area looks directly south and this is where the puppies entertain all thier guests ...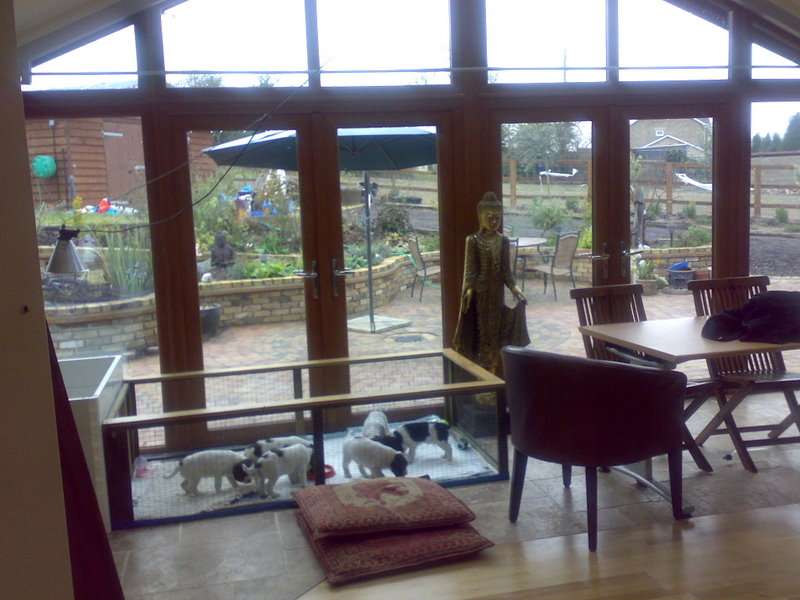 This central space leads to every other room ... like the "engine room" utility ... and


the main bedroom and kitchen...


sharing the kitchen island is the lounge area

---------------------------------------------------------------------------------------------------------------------------------------------------------------
WHO HELPED MAKE ALL THIS HAPPEN - Thanks everybody see you all at the opening party I hope
---------------------------------------------------------------------------------------------------------------------------------------------------------------
Our planning application was submitted and case progressed and advised by Fiona at Strutt & Parker
The foundation has been designed by PD Consultancy (part of civil structural engineers Peter Dann)
recomended by ER&R.H

This foundation was built by local builder Paul Whitton working with Bob from Scott & Scott
All of our groundwork has been carried out by Bob and Dan from Scott & Scott agricultural and landscaping
contractors based at thier farm in Buntingford. With greatful thanks to Warren Scott.
NHBC are providing Building Regs inspection on behalf of the local council alongside "Solo" inspections
for a 10year insurance on the building

Our ground and landscaping materials are supplied by local company Norburys (just one field away from our site)
Our "feature" courtyard wall is built by Dan Day from Scott & Scott and dressed in reclaimed bricks by
Gary from bricklayers E C Crow.
Our waste pipe systems are from JD Pipeworks at Sawston Duxford
Our rain water management is by Milton Pipes
Our water treatment is an Aerotec by Titan
Our borehole well and water pump system is by Mathew at George Lack and Sons
(who installed the original well on the site 35 years ago)
Our garage is a custom wooden prefab shed by local company Melbourn Custom Buildings (at Philimores)
Our courtyard was laid by Frank and his team
Our Frame is our own design turned into reality by local team ER&R.H
Ted Halford (Structural engineer) and son Robin (Architect) have calculated the structural integrity,
engineering a steel frame and panelising a SIPs panel construction.
They arranged for the steel to be manufactured to thier drawings by local (Melbourn Village) steel fabricator
Jeremy Brew.
They arranged for panels from SBS andmanufacture of the kit in Scotland by SIPit and they are arranging erection by a local erection company A1M with experience of steel and SIPS construction
Thanks Jim, Pete, Paul, Alex, Danny and very especially Rob (The unstoppable force)
Our Sandtoft "Olympia" double clay pantile roof with Velux windows is to be supplied and fitted by local company
Tanner & Hall (Bowler Group) and is to be photographed and entered into a contest
Our gutters are from Coppergutta with Japanese style cup chain downpipes
Our french doors and glass wall is is to be supplied by Thermaseal and fitted by local contractor/rep John Ellis
Our heat recovery ventilation system by Rega Ventilation installed by myself
Underfloor insulation is 60mm Kingspan supplied by Seconds.com
Our underfloor heating is supplied by NU-Heat and is being installed by myself
Our Electrics is to be installed by local NICEE registered electrician Andy Blows ably assisted by myself
Our floor screeders, dryliners and plasterers are Jamie and Danny Bunton of North Herts Plastering www.northhertsplastering.co.uk
Our gas condensing boiler by Valient and gas range cooker was installed by Steve Michaels who also checked and advised on the plumbing that was installed by myself
I installed a kitchen supplied by Howdens in Royston with thanks for design tips to manager Adam Bruce
Work tops are from Ikea the upstand and shelf is all made from the oak chopping block.

A top in recontitutied granite is on order for the Island in the centre from local company Granite Transformations

I also installed customised Howden units to create fitted furniture in the living room

The built in furniture in all the bedrooms is from Ikea - but we used customised kitchen units in the guest rooms
We promise some great parties at our "ranch" most especialy for all those that are being so supportive helping us to achieve our dream.

COME BACK SOON AND SEE HOW WE GET ON
With Thanks to Matt for the bottom bunk (untill my shed was ready)
Jamie for the use of his bathroom
Becky for help on site and tidying away the tools.
Thanks Jan for looking after Rosie Peggy and Bernie while I am on site
and for being an extra pair of hands.
Thanks John for extra hands and being my drinking buddy (I never drink alone).
Thanks Ron for advice and years of motivation and inspiration and
thanks to Gwen for feeding me and loving me xxx
Thanks to 'Rosie Lee' for making us so happy with your puppies
Great big thanks to Lelly "what a team we are"

To you all - we love being nearby all the time.

ur